At Cellular Solutions, we're proud to be an independent business communications and systems provider with a headquarters in the heart of North East England.
We've been embedded in our region's industries since 1995 and while our telecommunications and business software services are used across the UK, we've remained true to our local roots.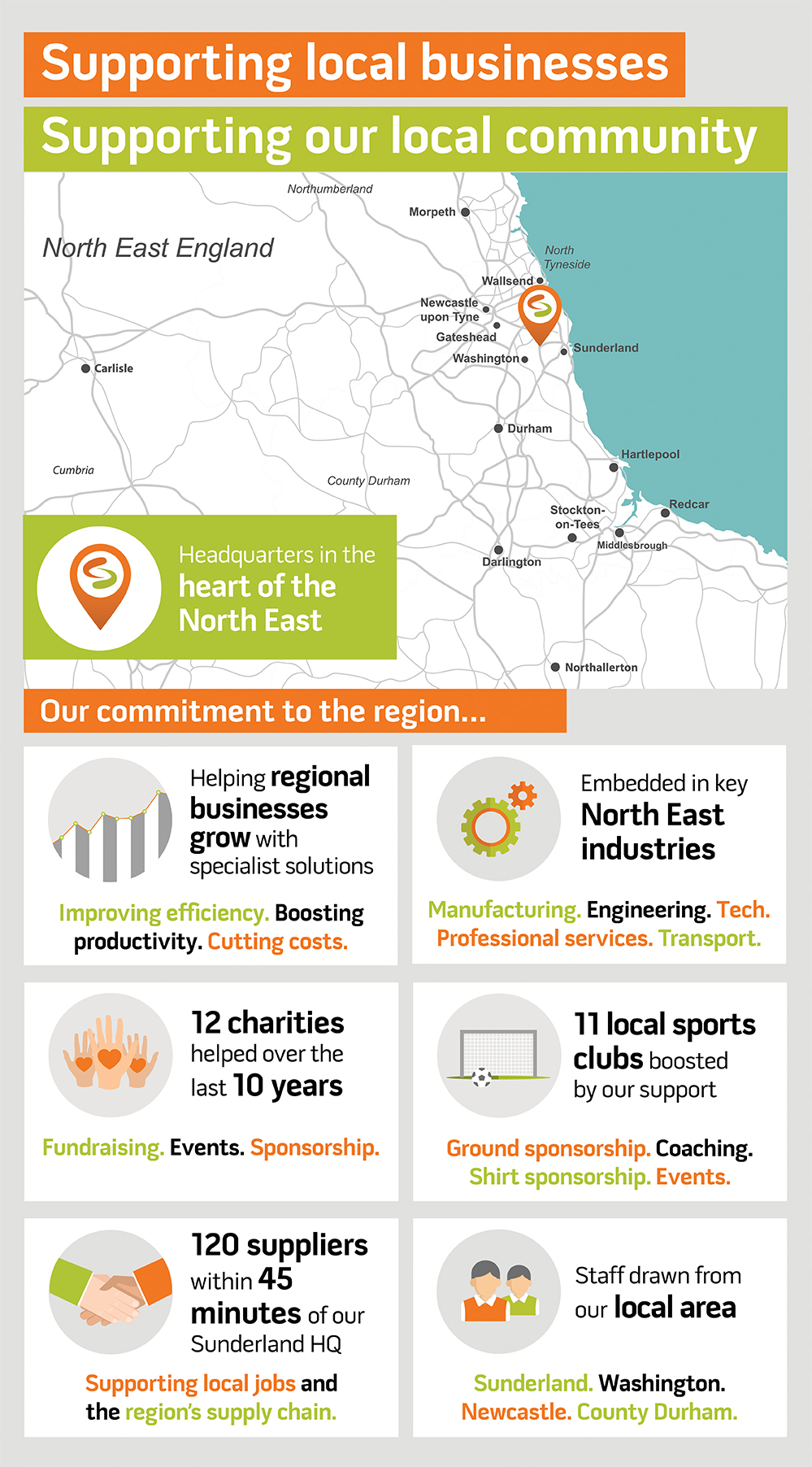 What does this mean in practice?
We're committed to using local suppliers
120 of Cellular Solutions' suppliers are within 45 minutes of our Sunderland HQ. We partner with some fantastic local businesses and enjoy being part of a great business community in North East England. By using local suppliers, we can help support jobs and growth in our region.
We draw our staff from the North East
Our North East-based staff have a deep understanding of the business landscape of our local area, helping them to support the region's companies. We're also proud to help develop the careers of young people in our region who wish to pursue careers in telecommunications and business software support.
We're on the doorstep
Our HQ is close to Sunderland city centre and Washington, just off the A19 and from here we can quickly reach our North East-based customers, offering consultancy, guidance and advice. It helps us build close working relationships with customers – and they know that support is available locally if they need it.
We support local charities
Cellular Solutions is committed to helping causes that are close to our hearts and these include many local charities. We support charities through sponsorship, direct fundraising and events such as our annual golf day, and our team get fully involved in these activities.
Over the last decade, we've supported local charities including The Sunshine Fund, The Percy Hedley Foundation, Changing Lives, St Cuthbert's Care, Tiny Lives, The Coquet Trust and Springboard Sunderland.
We're on the side of local sport
We're proud to support sports clubs and grassroots sports initiatives in our community. We do this through ground and kit sponsorship and partnerships, and our staff are also very active in coaching and running junior teams in the region.
Local sports clubs which have been boosted by Cellular Solutions' support include Northern RFC, Northumberland County Golf Team, Wearside Golf Club, Gosforth Golf Club, South Northumberland Cricket Club, Blaydon Cricket Club, Hetton Tuns FC and Newcastle Falcons.
We help local businesses grow
We act as a trusted partner to the region's businesses, increasing efficiency and productivity, providing peace of mind and helping customers to save time and money. We work with hundreds of North East businesses, from law firms to major retailers, engineering companies to health centres.
If you'd like to speak to one of our experts about how we can help your business, call 08700 118 000 or email our team at info@cellular-solutions.co.uk
Our customer journey
If you'd like to speak to one of our experts about how your business can benefit from business communications or systems, you can get in touch over the phone by calling 08700 118 000 or via email at info@cellular-solutions.co.uk