PBX Systems
Short for Private Branch Exchange, PBX phone systems enables internal telephones within a business to be connected together, as well as to public switched telephone networks, SIP trunks and VoIP providers. As a result, the system is able to share a series of outside lines when it comes to employees making external phone calls.
Cellular Solutions offer the SV and SL ranges from NEC, designed for real people and real businesses – it gets your team working together from day one.
The NEC systems easily integrate with existing IT technology as a fully interoperable digital or IP system, or a combination of the two. The user-friendly management interface streamlines system administration.
It offers easy integration with email apps including Microsoft® Outlook® and CRM systems.
Make rapid decisions, improve your customer service
The NEC systems allow you to make quicker, better informed business decisions without waiting for the next weekly office meeting.
You can respond more quickly and efficiently to customer requests to drive loyalty and keep ahead of your competitors.
It has call recording functionality which helps you to resolve disputes instantly and avoid litigation, as well as offering stop-start recording for credit card orders, and functions as a telesales training tool.
There is increased communication 'visibility' – call management tools provide a real-time snapshot of caller activity and customer service levels across the company.
Support your workforce, strengthen your business
The NEC systems offer future-proof technology that meets the need of the multi-generational workforce.
Hot desking – NEC system handsets and desk space to be shared by a number of employees, helping to keep costs down.
Mobile Extension – the systems allow a user to be contacted on a single number, regardless of if a call is taken on their desk phone or mobile.
Ergonomic IP phones – with full featured call handling keys, 5 call handling modes for personalised routing and 7 octaves of superior sound quality.
IP telephony – features include voicemail, auto attendant, workgroup features, music on hold and much more.
Customisable construction – the design can be changed for exact business requirements to fit individual needs.
SL2100 – galvanizes your team and creates a positive customer experience that generates repeat business. It is also a reliable solution with less hardware, less licenses and less maintenance.
VoIP – puts unified communications within reach of small businesses or it can be used as a resilient TDM solution with future-proof upgrade potential. It also presents considerable savings and functionality over and above alternative hosted solutions.
The 'on-demand' workforce:
• Value for Money – You only pay for what you need and the system is also completely scalable as your business grows.
• Easy to Use – The intuitive applications and features ensure that your team are empowered to be more productive. The easy installation also means there is no downtime.
• Keep Connected – Single number reach, DECT mobile handsets, built-in conferencing and voicemail means colleagues and customers can stay up-to-date and connected.
• Safety First – This includes an expanded and diverse portfolio of InApps. Along with multiple business benefits, these built-in/on-board apps require no external PC server.
Connecting your team, connecting your customers
For internal sales people – through auto-attendant, callers receive a greeting and are routed to the correct department, ensuring that staff only receive calls that are specifically meant for them.
For Helpdesks / Contact Centres – An InReports wallboard means call stats including missed calls are updated in real time. Advanced call centres can implement MyCalls Call Manager which allows businesses to view call activity in more detail, and benefit from statistics and alerts.
For Receptionists – With Caller ID, the appropriate greeting can be given to callers and calls can be redirected from familiar numbers straight to the relevant colleague.
For Door Security – Video Doorphone enables screening of visitors before they enter a building. Additionally, with a UT890 Touchscreen phone users can see who is calling. When off-site, door security can also be activated remotely via a smartphone.
For Office Workers – A conference feature means users can set up virtual meetings for colleagues at short notice, wherever they are. This enables rapid business decisions along with saving on travelling time and expenses.
For Team Managers – InUC allows users to update their presence status so other users can see if they are out to lunch, on holiday etc . A chat function also allows instant communication between team members.
For Remote/Home Office workers – A desktop phone or softhome allows easy communication with customers and colleagues with the same ease as if they were in the office.
For Mobile Users – The ST500 mobile app or Mobile Extension ensures users are reachable whether on the road or out of the office, meaning no important calls are missed.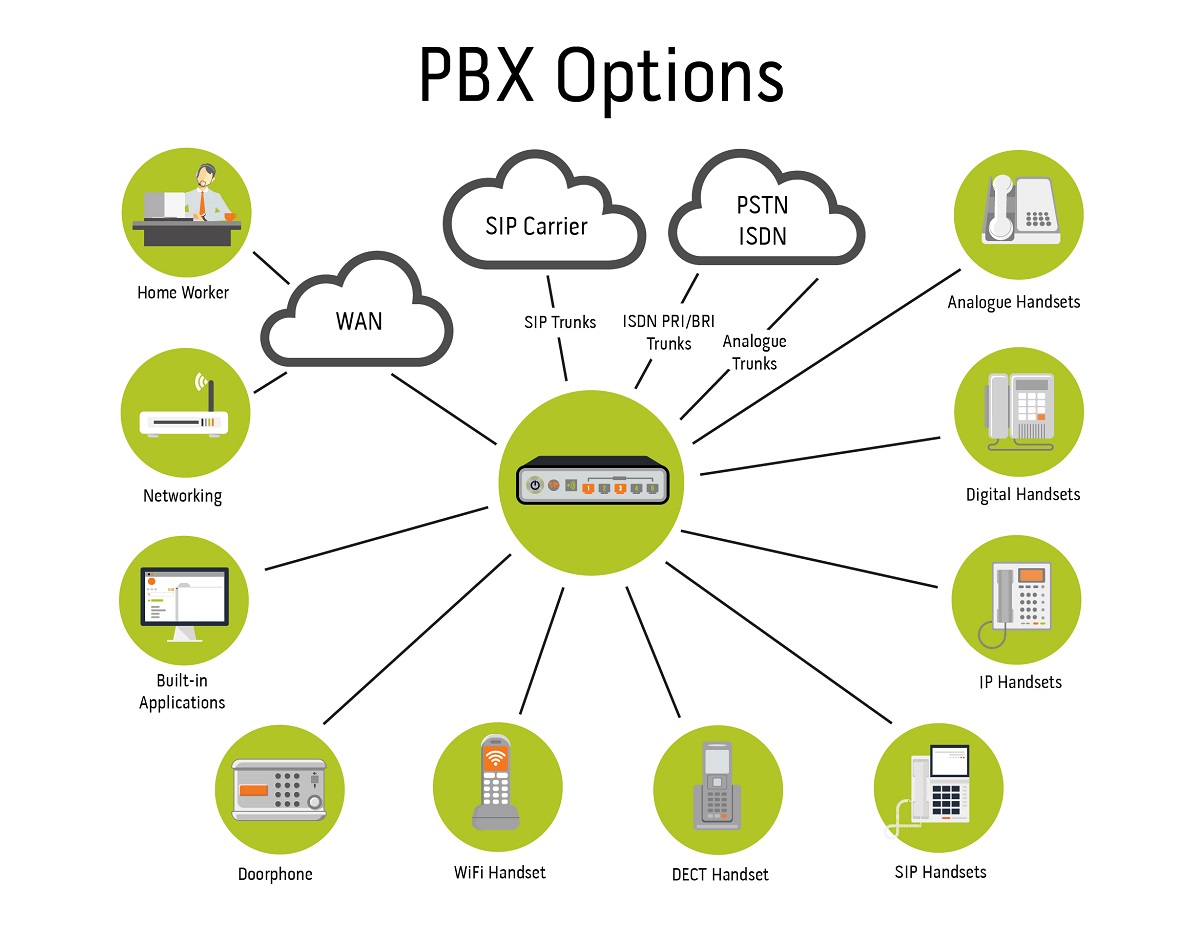 Budgets and Investments
10 ways the SL2100 provides value:
More features built-in: The SL2100 can grow as your business does, so incremental upgrades are both cost-effective and scalable. This also means less licenses, less hardware and less extras to pay for.
InApps portfolio (including; InUC, InGuard, In Reports, InHotel): As these are all included, no extra PC server is required and they can be simply activated with licenses.
Premises-based: This will help reduce or eliminate recurring monthly subscription costs that would be incurred with a hosted solution.
BYOD: Both the InUC and ST500 apps enable users to use their existing smartphone, tablets etc.
InGuard: This acts as toll fraud defence and protects your business against potentially huge company costs.
ST500 Smartphone App & Mobile Extension: Allows users to save on mobile phone charges and enables phone system calls via your mobile.
Hotdesking: Mobile teams (such as field sales teams) don't require a handset each and share the hardware costs are shared.
MyCalls Call Recorder: This avoids potential litigation as users can prove 'who said what' with encryption security.
Low IT maintenance requirements: This allows businesses to keep their IT costs down with a maintenance-free and hassle-free system. It is a reliable solution that will reduce downtime and the prospect of potential lost business.
Built-In Audio Conferencing: Allows users to save travel and hotel costs.
Find out more about how we can help you to get better connected through integrating business systems and communications into your business.
We help multi-site businesses across the country to manage the challenges of multiple sites, find out more about how we can help.