MaaS360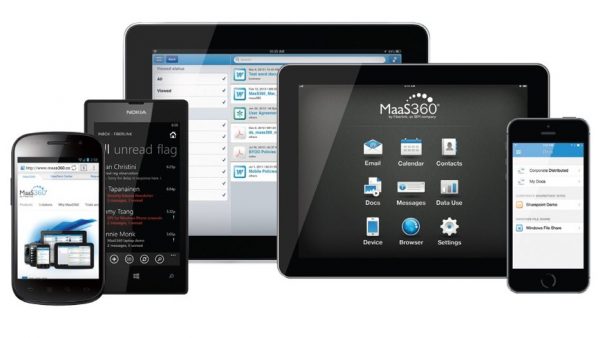 Cellular Solutions has partnered with O2 and IBM to offer MaaS360, a cloud-based Mobile Device Management solution that provides full control of device security and facilitates management of handsets, tablets and laptops connected to one network.
We offer the following MaaS360 services:
Mobile Device Management
The straightforward mobility management platform that helps to safeguard mobile devices. It's easy to use and gives you a powerful suite of tools to handle the management and security of all your mobile devices – and all from a single screen. The software supports devices such as iPhone, iPad, Android and Windows Phone.
Features include:
Configure email, calendar, contacts, Wi-Fi and VPN profiles
Monitor how much data each device is using and apply limits so you can get alerts when it's reached
Locate device using GPS tracking
Send enrolment requests over-the-air using message services, email or a custom URL
Set granular security policies for specific devices or persona policies that span across devices
Register corporate and employee owned (BYOD) devices
Mobile Threat Management
With mobile malware prevention and enhanced active protection, you can detect, analyse and remediate enterprise malware on mobile devices, to help protect your business against fraud and data breaches.
Features include:
Detect apps with malware signatures and malicious behaviour from a continually updated database.
Set granular policy controls to take appropriate actions.
Provide for a near real-time compliance rules engine to automate remediation.
Alert users when malware is detected and automatically uninstall infected apps (on select Android devices).
Detect jailbroken and rooted devices.
Discover hiders that try to mask detection of jailbroken and rooted devices.
Secure Productivity Suite
Ideal for mobile device data loss prevention. The MaaS360 Secure Productivity Suite delivers an enterprise data loss prevention solution.
Deliver fully compliant and secure web browsing.
Enable secure access to corporate intranet sites and enforce compliance with content policies.
Prevent data leaks with secure container policies, that let you restrict sharing and copying by users.
Leverage single sign-on for authentication
Enable online & offline compliance checks
Wipe suite container, app containers, enterprise profiles or whole device